Paving The Way for Roadway Construction Workforce
Florida's talent is unmatched. Statewide Workforce Development is committed to attracting talent, connecting them with industry contractors and job opportunities, and collaborating with partner agencies throughout the state to produce and retain Florida's workforce needed in today's business climate.
Created in 2019 as a provision of Florida Senate Bill 7068, the Statewide Workforce Development Program collaborates with community partners to identify and connect qualified workers with road construction contractors. Signed into law by Governor Ron DeSantis, the Statewide Workforce Development Program aims to create a robust pipeline of candidates to meet the demands of building and improving Florida's roads.
Our mission is to provide pathways to successful careers in road and bridge construction by recruiting candidates to meet future needs of the transportation construction industry.
We bridge the gap between job seekers and contractors, training the construction workforce in traditional and emerging construction techniques and providing support services to remove barriers for workers to help ensure success in pursuing a career in road and bridge construction.
The Statewide Workforce Development Program provides opportunities to build successful careers and improve lives. We work with community partners to connect adult job seekers with contractors who are hiring for road and bridge construction projects.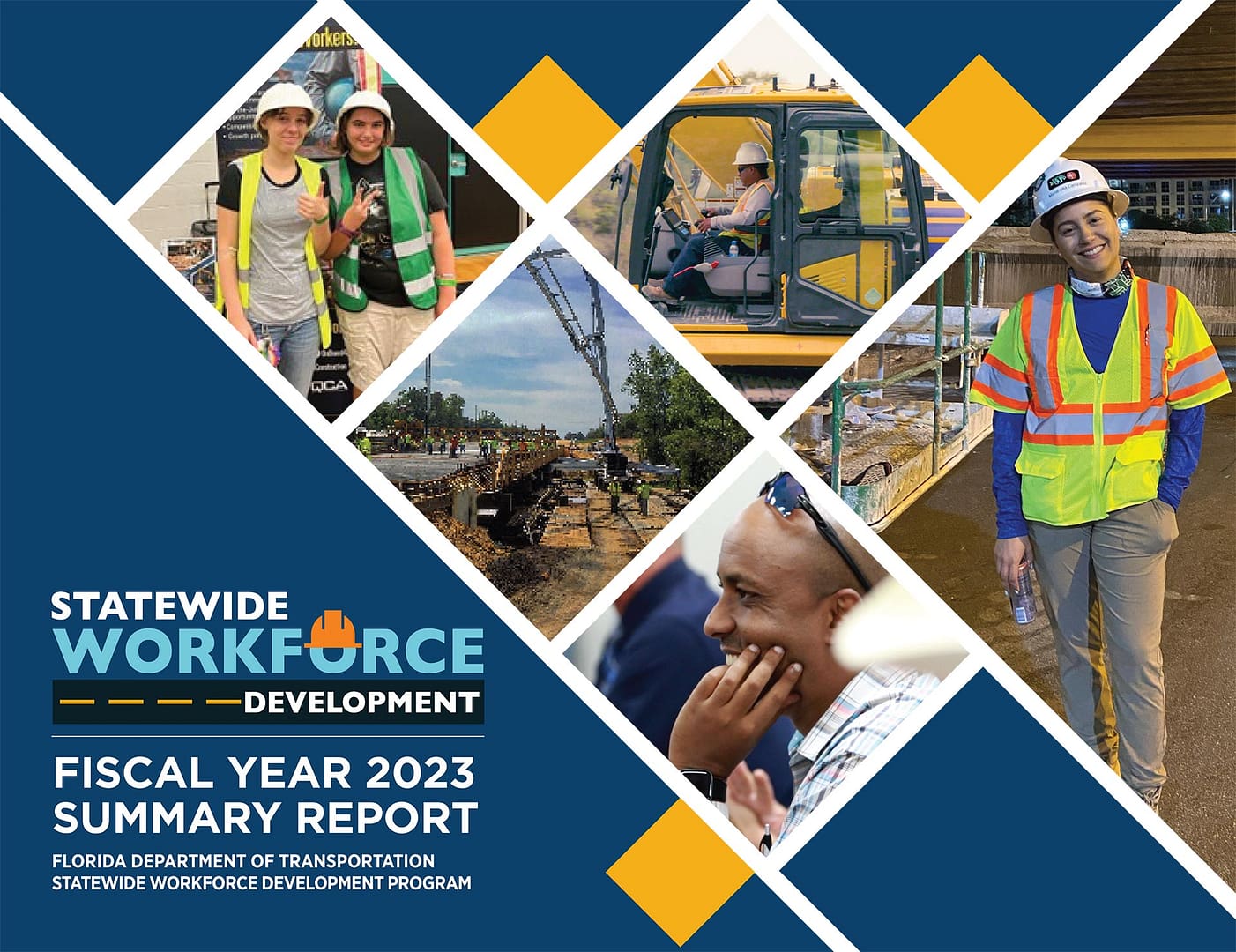 View Fiscal Year 2023 Summary Report
The signing of Governor DeSantis' Freedom First Budget in June 2023 made record investments in Florida's transportation infrastructure. The historic $12.6 billion in funding for statewide transportation projects for FDOT's current five-year work plan reaffirmed Florida as an innovative leader in transportation.

Strategic investments were emphasized, including $4.4 billion for highway construction to include 180 new lane miles, $1.2 billion in resurfacing to include 2,690 lane miles, $236.6 million for bridge maintenance repairs and replacements, $135.9 million in seaport infrastructure enhancements, $314.5 million for aviation improvements, $867 million for rail and transit program advancements, and $160.1 million for safety initiatives.

The Florida Department of Transportation is projected to create thousands of new design, construction, and maintenance of transportation infrastructure jobs over the next ten years.
FDOT is the COMMON DENOMINATOR Contractors + Community Partners = Economic Prosperity, Quality of Life, Equity & Hope.